Tips for a New Prop House
Deciding on a Name and Web Domain​
You'll have to say and type your name and web domain thousands of times, so aim for a healthy balance between short (few characters) and easy to say/communicate.
Longer names mean more characters which mean more opportunities for typos/spelling mistakes. We've seen some domains over 15 characters long and it's a struggle to type the whole thing out.
Shorter names and domains means staff and customers (and your friendly Propcart customer support agents) will have an easier time typing your domain into your browser bar or your emails into their email client.
Make your name and web domain user-friendly. Aim for short and easy to say.
Choosing Emails​
We recommend getting a branded Google Workspace Gmail account as your email provider which starts at $6 per month per email for their Business Starter plan. We'll help you set this up if you're a Propcart Pro customer.
We recommend one email for all inbound messages using the format [email protected]. This is the email that Propcart uses to send all system (i.e. "transactional") emails. Give your entire sales team access to this and let them use it to correspond with customers.
For larger businesses with separate sales and accounting teams, you'll want to segregate your billing emails from your sales emails. In this case, add [email protected], which will be used for all invoice, payment and statement emails.
If your sales email is somthing like [email protected], your transactional emails will be sent from [email protected]. These emails are more likely to appear in a recipient's spam folder or Gmail's "Promotions" tab instead of the "Primary" tab.
Prop House Hierarchy of Needs​
After surveying our clients about the software features they care about most, we generated this "Prop House Hierarchy of Needs":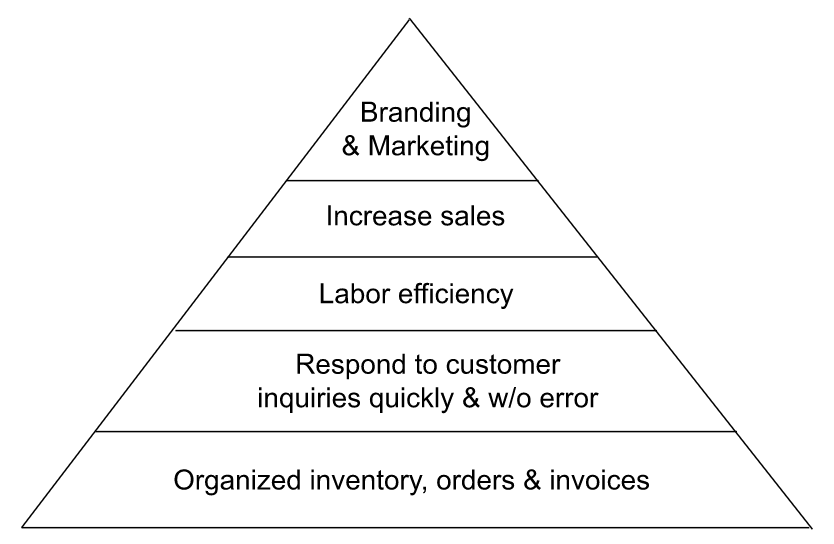 We use this pyramid to inform how we prioritize new features and enhance existing ones.
Your most basic software need is a "system of record" for storing and managing your inventory, sales and billing data. You could run your business off spreadsheets and a word processor, but the right software will make this a lot easier.

Customers prefer prop houses where service is not just friendly but fast. They want quotes and availability checks right away.

Next, nobody likes wasting money. You'll want to minimize your labor costs and maximize every employees' productivity.

After your operation is organized and running efficiently, then you want to start scaling and increasing sales. This includes upselling, cross-selling, price optimization, inventory curation (get rid of what's not selling and get more of what is).

Finally, your branding and marketing will help build a stronger emotional connection with your customers. With the right brand identity, your company will be recognized and differentiated in the market. It helps your customers know what to expect and your products easy to choose. And with the right marketing, you'll be able to inform new and existing customers about new arrivals and what's trending.
Prioritizing your Time​
Use the "Hierarchy of Needs" above to determine where you are in your business and what you should be focusing on. If you're a new business, investing a lot of time and money into your logo is probably going to hurt you more than it helps.
We've seen many prop houses survive and thrive with a basic brand identity and no marketing because they focused on getting the fundamentals right. This includes curating an inventory customers want and then making that inventory easy to shop on their webstore. Focus on serving customers fast before you worry about optimizing productivity and revenue.
Of course, every new and growing business still needs some branding and marketing. Our point is that investing a lot of time and energy into this should reserved for after you've built a strong foundation in the lower areas.